A living legend in Alabama political lore celebrated his 80th birthday recently. Walter Johnsey has been the most influential political man in Alabama politics for close to three decades. He has done it behind the scene, quietly without fanfare or seeking glory. He has been the power behind the throne for many administrations in Montgomery as well as numerous Congressmen and most of the State Legislature. He has done it from his perch above the fray in Birmingham. Many an aspiring politician for statewide office has come calling on Mr. Walter to kiss the ring of the king maker. If Walter liked their pitch, they left with a healthy contribution to their war chest.
There is an old saying that "money is the mother's milk of politics." Walter has supplied a lot of milk to Alabama politicians over the years. He has garnered some power from his generosity but what he really enjoys more is the game of politics. He understands Alabama politics and can size up an aspiring political would-be player almost instantly. He has a grasp of what makes Alabama politics tick better than anyone in the state. He conducts polls monthly to find out how each politician fares and what the issues are, and he shares his data with his favorites. He lives by the political golden rule that you stay loyal to your friends come rain or shine. If one of his friends gets barraged by negative events, Walter is the first to stand by their side. If Walter Johnsey is your friend, you have a true friend for life.
Walter Johnsey was born on August 22, 1924 in the coal mining community of Jasper in Walker County. He was born into a large and poor family. He had to go to work in the coal mines as a young boy to survive. He damaged his left eye in a coal mining accident as a youngster and lost the sight in that eye. However, it did not deter Walter.
He was accepted to Auburn University and despite his loss of vision he worked his way through Auburn and finished in the top of his class in engineering. He applied for a job with the power company and they hired him as a pole climber instead of an engineer. However, he climbed that pole all the way to the top of the company. He rose through the ranks of Alabama Power at a meteoric pace, outshining all his engineering peers. He earned a law degree at night while climbing the corporate ladder. He became CFO of Alabama Power by age 50. He was successful in other business interests as well. I remember one of our first meetings when he had a palatial office overlooking Birmingham. It was 1974, and I was a 22-year-old aspiring politician just getting to know Mr. Walter. I read in the papers that Walter made $150,000 a year as Chief Financial Officer at Alabama Power, a kingly salary at that time. Somehow the subject of his salary came up and he quietly stated that his salary from the power company wouldn't pay his taxes.
It was common knowledge that Walter controlled the Alabama Senate at that time. Indeed, he had been the major contributor to most of the 35 members' campaigns. His personal contribution along with the power company's comprised over half of each Senator's total campaign contributions.
Even today Walter spends almost every night of the week at a fund-raiser for some political campaign. He is sought after not only for campaign contributions but as much for his wise and sage political advice.
His 80th birthday party was an elegant event at the home of legendary Birmingham trial lawyer, Lanny Vines. Vines' mansion atop Red Mountain overlooking Birmingham was abuzz with politicians from all over Alabama, including Lt. Governor Lucy Baxley and former Governor Jim Folsom, Jr., many judges, mayors, county commissioners, and between 30 and 40 members of the Alabama Legislature and appropriately, the two most powerful members of the Alabama Senate, Lowell Barron and Roger Bedford.
They all paid tribute to Mr. Walter. Many toasts to Walter referred to him as either king-maker or Godfather of Alabama politics. Many spoke of the upcoming 2006 State election which should be interesting. You can bet your bottom dollar that one political icon who epitomizes the rags-to-riches, Horatio Alger story, named Walter Johnsey, will be a major player in the 2006 races.
Have a Happy Labor Day. See you next week.
---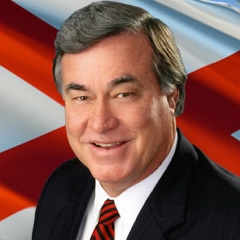 Alabama's premier columnist and commentator, Steve has analyzed Alabama politics for national television audiences on CBS, PBS, ABC and the British Broadcasting Network. Steve has been an up close participant and observer of the Alabama political scene for more than 50 years and is generally considered the ultimate authority on Alabama politics and Alabama political history.
All author posts