Governors "Big Jim" Folsom and George Wallace were both renowned for calling the Legislature into Special Session. During their era the Legislature met in biannual sessions on every other year. Therefore, it might be necessary to call the Legislature into an Extraordinary Special Session.
A special session is very advantageous to a Governor in getting what he wants. A Governor has the constitutional right to call for an Extraordinary Special Session if there is a problem or emergency need in State government. When the session is called, the Governor sets the agenda. It takes three-fifths vote to bring up any other subject or issue. Thus what the Governor puts into the "call" is what has to be focused on by the Legislature. It is difficult to get one-half of 140 legislators to agree on and be in favor of apple pie and motherhood.
Wallace and Folsom used the Special Session call to their advantage. It's hard to hide from the Governor's agenda in a Special Session. You can't hide behind the budget or the other 400-to-500 Bills on the agenda of a Regular Session which only takes a majority vote.
Big Jim was embarrassed politically one year, if you could embarrass Big Jim. He called for a Special Session. The Legislature came in to hear his speech and agenda the first day and voted to adjourn sine die, the next day, a complete insult to the Governor.
Bob Riley received the same rebuke in February when he asked the House and Senate to vote to recess the Regular Session and let him call a Special Session on his accountability bills. Riley took it in stride but his side has been boiling ever since and brewing for a fight. He has been quietly sitting back and waiting to call a Special Session after the Regular Session.
At the time of Riley's request at the beginning of the Regular Session in February, Riley's chief adversary, Senator Lowell Barron, the powerful Senate President Pro Tem, declared that the Special Session would cost upwards of $400,000. This figure was disputed and rightfully so since most of the cost is for extra clerical personnel.
The vast majority of those people involved were in place for the Regular Session anyway. However, Barron's claim would be factual if the Governor calls for a new Special Session which he is expected to do.
The Governor should try to make sure he has his ducks in a row. He has shown a bit of naiveté and inexperience in counting votes. He will be responsible for wasting $400,000 or more on a Special Session that is useless. It may not sound like much money but the State coffers need every dime they can get their hands on at this time. The state hasn't been this broke since the Great Depression or at least those in charge of state government would lead you to believe that. You wouldn't know it to look at the recently passed Education Budget.
---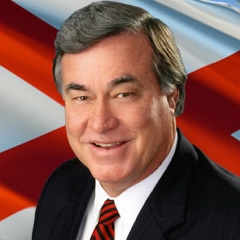 Alabama's premier columnist and commentator, Steve has analyzed Alabama politics for national television audiences on CBS, PBS, ABC and the British Broadcasting Network. Steve has been an up close participant and observer of the Alabama political scene for more than 50 years and is generally considered the ultimate authority on Alabama politics and Alabama political history.
All author posts