One of the more powerful and skilled legislators I ever served with was Representative Roy Johnson from Tuscaloosa. My first term, 1982-1986, he was Speaker ProTem of the House. He was a school principal and a close ally of AEA and Dr. Paul Hubbert. He had been trained by Dr. Hubbert in legislative parliamentary maneuvers and knew the rules of the Legislature as well as anyone. In the eight years prior to 1982, the House of Representatives had been controlled by conservative special interests, primarily the Farm Bureau. The Speaker had been the very conservative Joe McCorquodale from Jackson. His chief lieutenant was Rick Manley, a skilled lawyer-legislator from Demopolis. Manley was McCorquodale's Speaker ProTem. In 1982, a gigantic battle was shaping up for Speaker. McCorquodale retired and the race was on between Rick Manley and Roy Johnson. The two most powerful and opposing interest groups drew swords. Manley was the Farm Bureau/ALFA candidate and Roy Johnson was the AEA/PAul Hubbert candidate. Each had about 35 votes locked up initially. In the 105 member House it was a three-way split, Johnson 35, Manley 35, and uncommitted 35. George Wallace had just been elected to his fifth term as Governor. He knew how to control the Legislature. With his aura and experience it should have been obvious to both sides that he would be a major player in the Speaker race.
In this my first term, I represented all of Pike County and a large portion of Barbour County which was the Governor's home county, and his hometown of Clayton was in my district making me his Representative since he voted in Clayton. Since Wallace was Governor and I was his Representative, I stayed clear of the fray and committed to Wallace that I would be for his choice for Speaker. This was helpful for me since I would be in favor with the Governor and it allowed me to sidestep the Farm Bureau and AEA fight as both groups had endorsed and supported me. This commitment to the Governor did indeed help me immensely with the Wallace Administration. I never had a better relationship with a Governor that I did those four years with Wallace. He made me one of his floor leaders and I got just about anything I wanted for my district.About a week before the vote on Speaker my phone rang about midnight and Gov. Wallace was on the phone.
He said, Steve , hold on a second I want you to talk to somebody. He handed the phone to longtime Cullman Representative, Tom Drake, who was as loyal to Gov. Wallace as any one person could be. Drake said he was Wallace's choice for Speaker. I said, Well if you are the Governor's choice then you are my choice. Drake became Speaker of the House. Johnson retired from the House and has now become head of the state's two year junior college system, a system started by the Wallace administration. He is a smart, savvy, politically astute manager of the system. He understands the legislative process. He and Gov. Riley are headed for a turf battle over the state job training programs. By Administrative Act, Riley has basically created the State office of Workforce Development as a new state system under his dominion. Johnson has had control of these programs under his Junior College and Trade School system. A legislative act supersedes an administration act. Look for Johnson to trump Riley on this power play.
---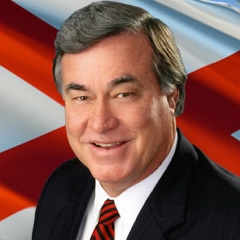 Alabama's premier columnist and commentator, Steve has analyzed Alabama politics for national television audiences on CBS, PBS, ABC and the British Broadcasting Network. Steve has been an up close participant and observer of the Alabama political scene for more than 50 years and is generally considered the ultimate authority on Alabama politics and Alabama political history.
All author posts